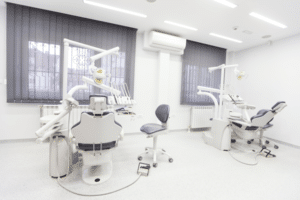 An
orthodontist
, like Dr. Monika Chan of
Aesthetic Dental Group
 in
Bridgewater, NJ
, is a dentist who has undergone special training to treat facial and dental anomalies like malocclusions (an abnormality in the alignment of the upper and/or lower teeth); similar to medical doctors that choose to specialize in fields like neurology and endocrinology.
What Kind of Problems Do an Orthodontist Treat?
Orthodontia focuses on helping to correct patients' dental malocclusions including:
✓ Underbites
✓ Overbites
✓ Crossbites
✓ Spaces between teeth
✓ Overcrowded teeth
✓ Temporomandibular joint (TMJ) disorder
Our Treatment Plans
Here at Aesthetic Dental Group we employ many approaches in the treatment of dental malocclusions. The three treatment plans we offer are:
1. Traditional metal braces
2. Invisalign
3. Invisalign Teen
Traditional metal braces are made of high-quality stainless steel brackets and wires, and are especially useful in cases where there may be severe misalignment. The brackets and affixed to the surfaces of your teeth, and the attached wires help guide your teeth gradually to the desired alignment.
Invisalign clear aligners are virtually invisible and are preferred by people adults and teens who are want to retain their image, however note that this system is ideal for patients with mild dental issues. Moreover, the aligners are also easily removed, and should be removed while eating, when brushing teeth, and when flossing; this is a choice that comes with health and hygienic responsibilities.
If I'm Being Treated by an Orthodontist Why Do I Have to See a Dentist?
The great thing about Aesthetic Dental Group is that patients have access to both Dr. Chan and Dr. John Cross, our cosmetic dentist. Visiting your dentist at regular intervals during the time that you are receiving treatment keeps good dental hygiene a part of your daily routine, keeps your teeth healthy and clean, and reduces your overall treatment time.  Especially if you have traditional metal braces, food and plaque can become stuck between your gums and teeth, under the wires connecting your braces, and between the brackets on your teeth. We here at Aesthetic Dental Group are here to help you get the brightest, straightest, and healthiest smile! Contact us today at: (732) 356-5050.
---
Dr. John Cross, Dr. Monika Chan, and the team at Aesthetic Dental Group are experts in orthodontia. If you have any questions pertaining to oral cancer screening, dental cleaning, teeth whitening, bonding and veneers, implant restorations, implant overdentures, crown and bridgework, traditional dentures, bruxism appliance therapy, tooth colored fillings, Invisalign, or braces in the 08836 zip code area: Martinsville, Warren, Bedminster, Bridgewater, Basking Ridge, or Branchburg, NJ, or would like to schedule an complementary consultation with Dr. Cross or Dr. Chan, contact Aesthetic Dental Group at: 732.356.5050