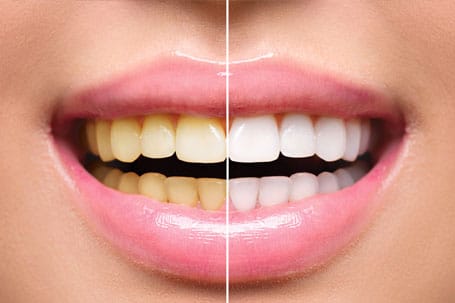 Improve Your Smile with Teeth Whitening Bridgewater NJ
What comes to mind when you think of the perfect smile? Many people tend to think about the teeth but a major concern when it comes to having a beautiful smile is the color of the teeth. Dull, discolored teeth can send the wrong message. They can also be a source of self-consciousness, leading you to hide your smile from those around you. At Aesthetic Dental Group, we can restore the brilliant white shine to your teeth with professional teeth whitening procedures from our cosmetic dentist n New Jersey, Dr. Cross.
What Causes Tooth Discoloration?
Your teeth are complex structures with several layers. The outermost layer, your enamel, is very strong, heavily mineralized, and naturally white in color. However, even with normal use, teeth develop tiny microfractures over time. These fractures catch and hold stains, pigments and other debris that dull the natural whiteness of your teeth. There are several factors that can contribute to tooth discoloration.
Certain types of foods and beverages.
Tobacco products.
Certain types of medications.
Age.
How Does Teeth Whitening Work?
At Aesthetic Dental Group, we offer teeth whitening that allows you to achieve your desired results in one of two ways. Your teeth can either be whitened in our dental office in Martinsville, NJ or done in the comfort of your own home. Our in-office procedures take only a single visit to achieve results. After applying the whitening gel, a UV light is shone over your mouth to activate it. With take-home trays, we provide you with custom fit trays based on impressions of your mouth and a whitening gel. You whiten on your own time, following the instructions we provide. Results with take-home trays are usually visible within a week.
The active ingredient in all of our whitening products is carbamide peroxide, which is hydrogen peroxide mixed with urea. It is an FDA approved whitener that extends the effectiveness of peroxide and can whiten even the most stubborn stains. When the whitening gel is applied to the teeth, the peroxide breaks down and enters the enamel and the dentin, bleaching the stains away.
We offer three different professional whitening products, which allows us to customize a treatment that helps you to achieve the results that you want.
ZOOM! Whitening: ZOOM! can be done in the office or at home. Our in-office procedure takes about an hour of your time, and your teeth are whitened up to 8 shades. With take-home trays, your teeth can be whitened up to 6 shades, with results beginning to show in just a few days.
NiteWhite: NiteWhite is a take-home whitening system available in two concentrations. The lighter formula is meant to be worn overnight while you sleep. The stronger concentration only takes an hour each day.
Sensational Smiles: Sensational Smiles is an in-office whitening procedure that takes only 20 minutes. Results are not as drastic as other whitening procedures, whitening your teeth 2 to 5 shades.
Over the Counter Whitening vs Professional Teeth Whitening
There are multiple types of whitening products available over the counter, including strips, gels, pens, and toothpaste. Why not just use one of those? Over the counter whitening products have lower concentrations of whitening agents, usually hydrogen peroxide. Because the concentrations are so low, they do not often produce the desired results. It can take numerous treatments to even see a minor difference.
Is Teeth Whitening Permanent?
In short, no, teeth whitening is not permanent. The same factors that caused tooth discoloration in the first place can discolor your teeth again. Fortunately, there are things you can do to prolong the results and keep your smile bright.
Avoid or limit foods and beverages that stain.
Drink plenty of water, especially following foods that stain.
Brush and floss regularly.
Have regular whitening touch-ups.
With dazzling white teeth, your smile significantly improves, as does your confidence. People around you will not be able to help but take notice. Learn more about teeth whitening in Bridgewater by calling us at 732-907-7319 or by using the contact form. Get ready to transform your smile — call today!