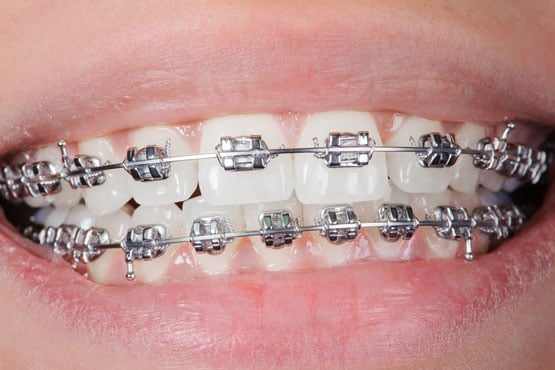 Traditional Braces
Removable and Fixed Braces in Bridgewater NJ
Whether you have a crooked smile with uneven spacing or gaps or you need more intensive orthodontic work to fix your bite alignment, you may be a good candidate for dental braces. Dental braces are not just for helping you have a beautiful smile; while they certainly will help with that, they are more than just a cosmetic procedure. If you have issues with your bite alignment or you are feeling ashamed and embarrassed by your teeth, we here at Aesthetic Dental Group can fit you with braces to improve both your smile and your quality of life.
What Are Braces and Why Would I Need Them?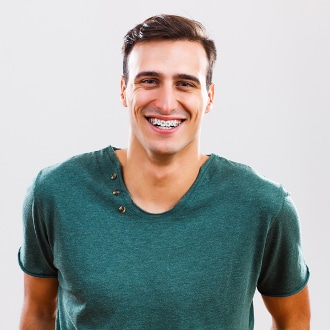 If you have ever met someone who had metal brackets on their teeth with small metal wires running between them, then you have encountered a person who is getting orthodontic work done with the aid of dental braces. Braces are a dental device that helps fix any issues you may have with your teeth or jaw alignment. Whether you have an overbite, an underbite, or just teeth that are poorly aligned when you close your mouth, you can benefit from braces.
Types of Braces
Not all braces are the same, and while many of us still think of metal wires and brackets when we think of them, today's braces are quite different. Some braces are made out of ceramic or polycarbonate, and for some patients, they may get "lingual" braces, which means that they are behind their teeth instead of out in the front where people can see them.
Getting braces fitted is available for people of a wide variety of ages. It is not just for teenagers anymore! Children as young as seven years old have been considered for braces, but the typical age of use starts around the age of twelve.
We prefer to wait until your permanent teeth have grown in before we start our patients on braces, but some patients may be good candidates for different phases of braces. That means that we may fit our patients as young as seven with braces (this is known as "phase one" braces), and as their permanent teeth grow in, we fit them with the second phase of braces. Even adults can get braces, though many adults do choose alternative options.
One of these options includes Invisalign clear trays. Unlike traditional braces, which need to be worn 24 hours a day, Invisalign can be taken out for up to two hours per day. Adults typically prefer this option, not only for the convenience but because Invisalign is more discreet and subtler than traditional braces. Other alternatives to braces include palatal expanders, which are beneficial to people who have crowded teeth, and Forsus appliances, for overbites. Braces can take up to two years to deliver fully satisfactory results.
The Price of Braces
The cost of braces depends largely on the extent of work that needs to be done on your teeth, but you can expect them to start around $3,500 and range up to $8,000. The average price, however, is generally around $5,000. Your insurance may help pay for braces, helping you save some money on the overall cost.
Questions about Traditional Braces?
To learn more about dental braces and to determine if you may be a good candidate for them, please give us here at Aesthetic Dental Group a call today at (732) 507-5007!