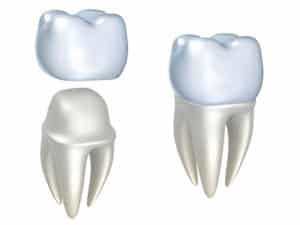 One of the most commonly used restorative procedures in dentistry today is the dental crown. Having been around for a long time, most people know these are used to protect a tooth that's become damaged. Unfortunately, even if you have insurance, you'll probably still have to pay for your dental crown which may leave you wondering if getting one is truly necessary.
What Dental Crowns are Used For
There are many different uses for dental crowns. Oftentimes, we will suggest that you get one instead of simply getting a filling if you have broken or chipped a tooth. At other times we suggest dental crowns because a filling would simply be too big. They also work well when you have a badly decayed tooth.
Still, you may be wondering whether you really need a dental crown or if you could get by simply having your tooth filled. Although we may strongly suggest that you get a dental crown instead of a filling, ultimately, it's your mouth and the decision is up to you. All we can do is give you all the information and advice possible so you can decide what's truly best for you. As you work to make this educated decision, remember that dental crowns will keep your teeth in better condition, which is why we believe that they're a better choice. The only time when it isn't a choice is when you have a root canal. Then you must have a crown placed to protect your tooth's integrity.
You should know that we will always recommend what's best for your teeth. So, if you find yourself wondering if you need a filling or a dental crown, give our office a call and set up a time to come in so we can talk about this with you.