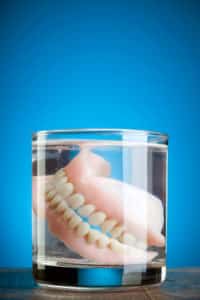 When you've suffered from tooth loss, whether it's missing some or all of your teeth, it's important to replace the teeth either with dentures or dental implants to prevent bone loss of your jaw.
A little preparation is needed prior to receiving your first set of dentures to ensure that you are comfortable and the fit and appearance are best for your mouth.
Preparing for Prosthetic Teeth
When teeth are lost, replacing them with dentures is a good idea. Sometimes alveoloplasty is required. This is a procedure performed by our skilled staff that will smooth and reshape the jawbone ridge to prepare it for dentures. This procedure greatly increases the comfort of wearing dentures.
Occasionally, new bone growth is found on top of the existing jaw bone and that will have to be removed. This is called exostosis and is necessary for your dentures to fit properly.
We implore you not to feel discouraged if you learn that you may require pre-prosthetic surgery, but dentoalveolar surgery can often be a very important step to ensuring that your dentures fit correctly. Ill-fitting dentures are not only a frustration to you, but they can have a negative effect on your not only your oral health, but your overall health as well.
Let's Discuss Dentures Today
Whether you're missing some or all of your teeth, please consider making an appointment with us to discuss replacing your teeth with dentures. Our dentists will help you prepare for your dentures by giving you a complete exam and discussing your next steps.
Dentures are natural looking and will greatly improve your quality of life! Imagine being able to enjoy the foods you love and share your beautiful smile with the world without feeling embarrassed or restricted by missing teeth! We look forward to helping you restore your smile and obtain optimal oral health.