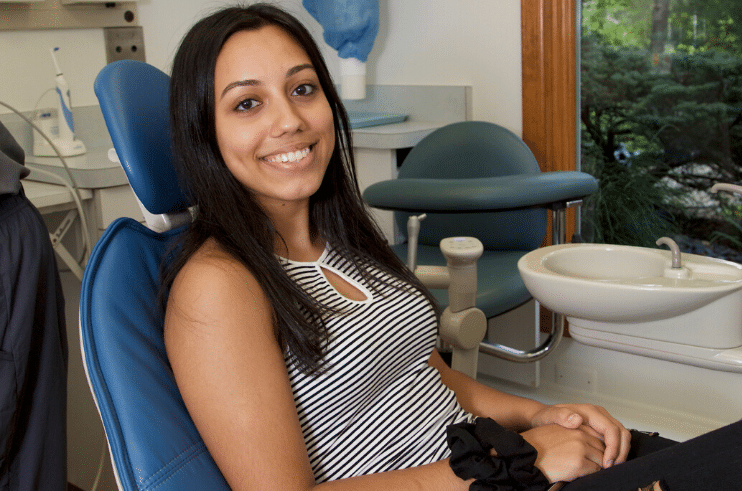 Testimonials
Orthodontist in Bridgewater
Over our many years in business as a Prosthodontist and Orthodontist in Bridgewater NJ, Aesthetic Dental Group, has served many satisfied dental patients. We'd like to share what some of those dental patients had to say about our practice, and will add more testimonials as time goes on.
I want to add my voice to all my neighbors in praise of Dr Cross and his team's efforts in the time of Covid. The meticulous care of patients they provide is comforting always, but when we are afraid for our safety, this office is the safest place to go for excellent care. Drs Cross and Chan have added hospital quality UV filters to both offices to provide clean safe air. This week, my husband and I both left the office, pausing to appreciate their lovely gardens, and breathing more easily. It is really true what all these patients say - you go to this dental office and come out relaxed - and your teeth thank you.
I've always maintained that a truly great healthcare professional can positively impact your life beyond the purview of the treatments they provide, and at times change your life for the better. Doctors Chan and Cross are one such example. The quality of care I have received from them is the best I have ever gotten from any service provider, and have changed my life in many ways. Monica Chan as an Orthodontist is nimble, efficient, and extremely accommodating. As someone with a terrible gag reflex and high dentist-anxiety, I am perhaps the worst patient to possibly sit in an orthodontist's chair. Dr. Chan however has been particularly patient with me and always does her very best to make me as relaxed and comfortable as possible. She explains every procedure and action in detail, and shows you what your treatment plan goals are and how you'll reach them step-by-step. She takes her time when working, and the results solidify her reputation as an incredible Orthodontist. She's never made a mistake, caused me discomfort, or given me a reason to worry about an appointment ever again. Dr. Cross on the other hand, is everything you want in a Dentist. He's gentle, understanding, and like Dr. Chan, shows genuine care and investment in his patients' outcomes. He's been very straightforward with how I should better take care of my oral health, and has went out of his way to make time to investigate even my smallest and most mundane dental concerns. On top of all this, the staff and overall office is fantastically amicable and comforting. Everyone is always happy to see me and always make an effort to be helpful whether in the office or over the phone. I've never had a billing problem, dispute, or any other issue in my time here, and every appointment is pleasant from the moment I walk through the door to the moment I leave. Even the ambiance of the office is great; wonderful decor and style, warm and inviting music, and great landscaping and overall property. I have never been so calm while receiving dental care as I have been here. Together these two run the most welcoming, accommodating, and enjoyable dental office I have ever set foot in, and it is truly worth every penny for the results they provide. 5 out of 5 stars does not do Dr. John Cross and Monica Chan the justice they deserve. If you are looking for a place to satisfy all your dental needs, look no further.
In 1976, I lost one upper front tooth. Over 35 years later, it was time to find a new solution for the aging bridge. Dr. Cross had already masterminded various crowns, root canals, updating old fillings, and was generally the man in charge of my teeth, always with positive results. He spent much time discussing the pros and cons about the front tooth replacement and respected my strong wish to keep the remaining natural tooth. This decision presented the challenge to keep the symmetry of the all-important upper-front-teeth! John was as concerned, as detailed and as patient from the first day we started discussing the options to the last day when the final fixture was installed. It wasn't over until both of us were satisfied, and it must be said that John's bar was much higher than mine. I am so pleased with the results. My sister and my daughters no longer have to ask, 'When are you going to do something about that tooth?' They hardly remember what it used to look like. Not to be overlooked at Aesthetic Dental Group are Pat and Denise. There is that feeling of happiness in the workplace; the feeling that they are a team that have worked together for years. It shouldn't be taken for granted that the office is Happy. It enables them to provide us patients with the best possible personalized experience in a stress-free atmosphere. Dr. Cross's care about his patients doesn't begin and end in the dental chair. It extends to the environment he creates for us. The calming gardens, the music choice, and furnishing in his office speak volumes of this man's creative, artful nature, and proof that his profession is a mix of science and art. Without reserve, if you are considering any kind of dental work, I recommend Dr. John Cross and his staff. I wish that John, Pat, and Denise would be the only medical professionals I would ever have to see. I want them to be my go-to medical team for everything from my head to my toes. I can't think of a better recommendation than that!
I had always experienced mild anxiety while in the dentist chair. My previous dentist had retired, and I found Dr. John Cross by accident. Upon my first visit I noticed a considerable pleasing difference, first the staff and atmosphere are special, they are exceptional, while being comfortable and friendly. An Asian inspired garden awaits you outside and follows you through your visit being ever present through the large windows in patient work rooms. This creates an extremely relaxing environment that adds a unique quality to your visit. They also have very advanced and the newest technology to make your visit even more comfortable, including patient conveniences like a massage chair, and a warming wrap for your neck to relax you. These are all great, but what any patient should really be concerned with is the actual doctor.
Dr. John has a better way of Dentistry, I am not sure how to explain it but an immediate trust and confidence was easily established. Dr. John was extremely thoughtful, gentle, and considerate to my anxiety, which by the end of the first visit had completely vanished. I actually am so comfortable with his staff and his work that I have fallen asleep several times while he was working in my mouth.
I can only award Dr. John for his efforts and let others know what a wonderful experience his work and service has provided for me. Dr. John Cross is surely Dentistry at it's best, but what makes him and his staff special is that they care, and they care a lot about helping you achieve the best possible results. They explain every thing in detail and offer complete information on the appropriate care for your particular situation. As a patient I have received very personal attention that has allowed me to become very comfortable while experiencing a quality of service that makes going to the Dentist enjoyable on every consideration.
Just a note to say 'thank you' for your courteous and professional care. While I went into your treatment not knowing what to expect, you put my mind at ease every step of the way. I felt completely comfortable at each visit. Thank you.
The essence of Dr. John Cross and Dr. Monika Chan's office, from a long-satisfied client's perspective, is that each of us is treated on an individual basis, creating comfort and caring levels that make for personal relationships.
Dental procedures are clearly defined and – certainly in my case – the results have been fantastic. I have never had so many compliments about my smile as I do now. Positive attitudes and professional expertise make maintenance follow-up and appointments an easy to make part of a way of life.
Every profession has a few truly fine artists and in dentistry Dr. John Cross is one of those artists. John worked for more than 2 years doing an entire restoration, including implants, that culminated in total satisfaction. Add to that artistry, John's extremely capable support staff and you have dentistry at its best!
Drs. John Cross and Monika Chan have taken care of our family's dental needs for 15 years. We not only benefit from Dr. Cross' superior diagnostic skills but we are treated like family in the small and charming office setting that has the feel of a day spa. Patty and Denise have been a part of his staff for many years and go out of their way to make us feel special. Both of our children were patients of Dr. Chan and each received an individualized orthodontic treatment program that resulted in a beautiful smile.
Their practice gives us peace of mind in knowing that our dental needs are being handled by true professionals with the highest of standards and that they also really care about their patients.
Dr. Cross and Dr. Chan make a great team. They are both very thorough and meticulous. Both doctors have always been very accommodating with emergency and urgent appointments. Dr. Chan has done a great job straightening out the kids' teeth and was always very patient with them. Dr. Cross has done excellent work on our restorations, and the kids also feel very comfortable with him for their routine visits. Denise does a thorough job of cleaning all of our teeth and is delightful with both kids and adults. If you want top quality dental care all around, this is the place to go.
Every profession has a few truly fine artists and in dentistry Dr. John Cross is one of those artists. John worked for more than 2 years doing an entire restoration, including implants, that culminated in total satisfaction. Add to that artistry, John's extremely capable support staff and you have dentistry at its best!
I know how important these reviews can be to help someone make a decision on any service. That's why I'm taking a moment to let you know how my wife and I truly love Dr John Cross and his assistants. We have been patients for over 10 years. He is extremely gentle and caring explaining everything clearly each step of the way. He asks many times as he is administering anesthetics to see if there is any pain. They give you a heat pad for your neck and a message mat under your back. The office has really fantastic views out the windows in each examination room, his gardens with bird feeders etc are so comforting. My whole family & several co-workers go to Dr Cross and are extremely satisfied with his services. The office is super clean and relaxing music is on at all times. His quality of work is excellent the best we have had. If you or any member of your family needs a dentist Dr Cross is the one to visit. I HIGHLY recommend him.
I wanted to thank you for everything you have done for me, not just recently, but throughout the years. I really appreciate it. Coming to your office is more than just going to the dentist, I feel like I'm coming to see family (aside from the fact that my second mother works there). So again thank you for everything.
Total professional. Always does what is best for the patient. My mouth has never been so healthy
My brother and I have been attending Dr. Chan's office for years! We have had an excellent experience here! Dr. Chan is an excellent orthodontist who treats every patient with respect. I had my braces done with her and all throughout I never had any problems! I highly recommend anyone who needs orthodontic work to come here!
Hands down the best dentist in the tri-state area… I've been getting my dental work done here for 15 years and never once have I been disappointed or misled. They have fixed plenty of old work done by a few prior dentists that were less than desirable. John Cross is a true artist in every form. He has an amazing eye and will not stop until the job is done the right way and up to his highest standards.
I have been a patient of Dr. Cross for the past 20 years. He and his staff are extremely compassionate and caring. When you become a patient of Dr. Cross you are part of a special family. The peacefulness of the office is very soothing. The office is consistently immaculately clean. All equipment is modern and cutting edge. Dr. Cross is a perfectionist and will settle for nothing less. I am also aware that retired dentists choose Dr. Cross for their dental care. I would definitely rate the office with 5 plus stars.
Dr. Cross is the best dentist! He has taken care of my family for over 15 years, and he does a great job. He makes himself available when there is an emergency, and makes sure we are up to date with preventative care. When we have a cavity, Dr. Cross makes sure it is fixed in a painless way. Denise also does a great job keeping our teeth clean. We moved about 1 hour away, but still come back for our dental care! Highly recommended!
I have been a patient of Dr. Cross for many years, and have always found the care to be excellent – thoroughly professional, attentive to what I have to say, and very respectful and pleasant. On several occasions, Dr. Cross went out of his way to accommodate my needs, for example, arrange for dentures in time for an urgent trip. I recommend this practice to all of my friends.
Been coming to see Dr. Cross for a few years. Everyone is always extremely pleasant and courteous. No procedure is done that does not have to be done. All findings are discussed to explain the issue(s) so you know what is going on. All appts have always been, or very close to being, on time. No excessive waiting. On top of that, there is always great reading material.
Dr. Chan, the orthodontist at this group, is one of the best doctors our family has ever been to. She does fantastic work, is kind, gentle and knowledgable. I would heartily recommend her to anyone. As an added bonus, her office is relaxing and spotless. We actually look forward to our visits!
Aesthetic Dental Group is like visiting a spa. The atmosphere is welcoming, relaxing, calming, and rarely there is a wait. Dr. Cross and Denise are very kind and gentle. I have never experienced such a thorough exam! Pat is always greeting you with a smile. You will love this dental experience.
Dr. Cross has been my dentist and prosthodontist for over the past 15 years. I have a complicated dental history due to oral cancer when I was a pre-teen. I was extremely careful in my search for a local dentist who could match the quality of care I received from my post- surgical dentists and prosthodontists in NYC. I am so pleased with the care I receive from Dr. Cross and his staff, Denise and Patty. They are warm, caring, knowledgeable, thorough, and ever-on-the-cutting edge of the newest scientific findings in dental care—I always learn something new and useful before I leave. A review would not be complete without commenting on the beautiful and tranquil gardens that greet you as you enter the office and look upon outside the windows. That coupled with the warm neck roll and massaging chair during the visit and warm hand towel and goodie bag at the end, make going to the dentist a most pleasant experience.
I have been very, very happy and satisfied with the complete dental health professionalism I have experienced at the office of Dr. Cross "Aesthetic Dental Group". Dr. Cross is very educated and knowledgeable in his profession, he takes his time to explain procedures and goes through everything thoroughly. I don't ever have to worry about the outcome when Dr. Cross is working on my teeth, I know I will be completely happy with my results. The dental hygienist Denise is one of the most gracious people I have met and is also highly qualified in her field of profession, my teeth have never looked whiter and brighter. Pat is also a pleasure to work with on the phone, in the office and on the dental chair. She's surely is a person of multiple tasks and does exceptionally in all of them. It brings great pleasure to go to the office and experience the beautiful tranquil Asian gardens and the impeccable super clean office.
John Cross and his staff–Denise, Pat and Annette–are kind, gentle and just great people! They take extra care to make sure my visits for cleanings, fillings and whitening procedures are always comfortable and pain-free. A great deal of thought has gone into making a trip to the dentist as relaxing as possible–from the window views of John's beautiful gardens, to the music, art and fresh flowers. They keep meticulous notes about my likes and dislikes, and always send me home with a "goodie bag" of dental must-haves (floss, lip balm, new toothbrush). They don't just care for my teeth–i feel they truly care about me and my family.
I saw Dr. Cross for a very challenging replacement of a front bridge. He spent hundreds of hours perfecting my bridge and my smile. Ten years later the bridge is perfect – and my wife still thinks that I am handsome. I highly recommend Dr. Cross and his team for even the most challenging work.
The office staff is friendly and very competent. Dr. Cross is excellent. He explains what he is doing and answers all questions. I highly recommend him.
Dr. Chan was incredibly helpful and supportive during my 18 month Invisalign treatment. She is very thorough, organized, and structured that helped me achieve the best possible result for my smile! I would recommend Dr. Chan to anyone seeking this kind of assistance!
We highly recommend Dr. Monica Chan to all parents seeking orthodontic services for their children/young teens. Our daughter had several uncommon dental issues including a few
missing adult teeth. After meeting with other orthodontists, we brought her to Dr. Monica Chan who immediately gained our trust.
Very pleasant, friendly, efficient, clean, comfortable and thorough office and services. Highly recommend and find it a very easy office to visit for appointments.
We couldn't be more pleased with Dr. Chan! After discovering an issue another Orthodontist had not seen, and the condition was pretty severe, she quickly took over and made a long term plan to fix and reverse what had happened. She patiently walked us through her game plan.
Dr. Cross is a caring, compassionate and kind dentist. He always has your best interest at heart. The office is a warm, friendly and inviting place to be. I cannot imagine going to any other dentist. You are treated like a family member, not just another patient!!
I saw Dr. Chan many years ago when she was in a solo practice. She totally worked with me and got a great result, and I got to keep all of my teeth (first doc told me I needed to remove four premolars).
My wife and I have been patients of John Cross since he took over an existing practice more than 20 years ago. To be precise, he is the best dentist we have ever used, and I will be 80 on my next birthday!
Going to Dr. Cross office is always a beautiful experience, from the Zen beautiful nature filled views all around the office to Dr. Cross's positive and pleasant personality. Even his staff is very friendly, calming and also pleasant. He truly is a doctor who cares about his patients.
My smile has been totally changed for the better thanks to Dr. Chan and Invisalign.
Dr. Cross and the whole office are very nice, always pleasant, efficient, never had any issues. My wife has been going to the practice for probably 40 years, and I've been going for about 10, and very happy with the service.
As a new patient I'[ve been delighted with the services from John and his very dedicated team. Highly recommended for those seeking trusted, professional – and surprisingly relaxing – dental services.
Dr. Chan is absolutely the best!! Having both of my boys having extensive orthodontic work she truly was always available, patient, and comforting. When you go to Dr. Chan one of the best features is that your child is always seen and worked on by her, not an assistant. I highly recommend her.
I never suggest to friends and family to consider switching to the office of Dr. Cross and Aesthetic Dental Group. I *urge* them to switch ASAP! ? (I call him an artist of the mouth.) Seriously though, he is some kind of craftsman both with tools and manner.
My experience with Aesthetic Dental Group was incredible. From start to finish Dr. Chan and her staff have been professional, friendly, and accommodating. The office is peaceful and inviting, not at all intimidating for a new patient about to undergo orthodontic work.
I have been going to this dentist office for 40 years to have Denise clean my teeth. Denise and Dr. Cross do a thorough exam of the mouth during the visit and offer suggestions of how to better take care of teeth and gums and inform of procedures that can be done for mouth care.
Dr. Chan is highly knowledgeable, and expresses herself in a sensitive and soothing manner– very holistically oriented. I felt she really cared about me as an individual as she carefully addressed all my concerns. I decided to get braces… at 56! The results have been spectacular!
I have been going to Dr. John Cross for over 10 years. He is one of the most gentle and sensitive dentists/doctors that I know. I have had all types of preventive and restorative work done by him with never any issues after the procedures. Dr. Cross cares enough to call you as a follow up.
I am a dental health care provider and have seen Dr. Chan's orthodontic treatment for over 10 years. I know she provides excellent care and has great results. She provides very personal attention to her patients and is always patient with them.
Dr. John Cross is a wonderful and caring dentist who is always looking out for his patients. He is very attentive and always makes sure that I am comfortable and at ease when I am in his office. He always explains any procedure that is recommended to me and listens and answers any questions that I have.
My two daughters had braces by two different orthodontists. The outcome from Dr. Chan was superb, she herself did every aspect of the treatment. My other daughter rarely saw the DR. and most of her adjustments were done by his assistants!!
Great board certified orthodontist. Treats everyone personally at each visit, very conscientious and strives for excellent outcomes.