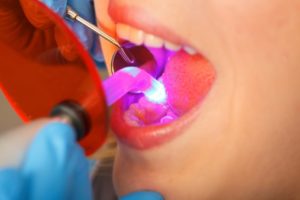 Dental bonding is used in a number of ways. This is a dental procedure that is done right in our office to provide the smile you have always wanted. Dental bonding is a popular procedure that has been provided to patients for years. It helps to shape and restore the look and feel of the teeth that have been damaged. Here is more information on whether or not dental bonding is the best option for you to go with.
What Can Dental Bonding Help Fix?
The most common reasons to have dental bonding done is because you have a cracked, chipped, or broken tooth. It can also be used to close up small gaps that are in between the teeth. Smaller cavities that require fillings can also have the same dental bonding material used when the filling is at the front of the mouth. This way, the tooth that requires the filling is the same shade as the other teeth in the mouth.
It is important that you have a smile that you feel good about. The only way to do this is through the use of our professional dentists. We can take a look and recommend the best treatment plan for your needs. Everyone is different and you may or may not need dental bonding for the issue you're experiencing. We can help let you know.
Speak with us today regarding the dental bonding you may need to have done. You shouldn't have to worry about a cracked or chipped tooth, because we have you covered when you smile. Our dental team is one-of-a-kind and provides you with the necessary help to fix that smile, regardless of the issues you're having. The first step is to give us a call and we can schedule a time for you to come in for an exam.