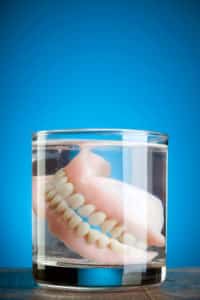 Dentures are custom made to fit the specific person that needs them. While they should fit properly and securely on the gums, they do not always do this. There are many things that can cause them to slip and feel uncomfortable. When this happens, it can cause problems for the gums. If you are wearing dentures, you need to know how to protect your gums.
How Slipping Dentures Causes Damage
When dentures are not fitting properly they slip. There are different reasons for the dentures to slip. The gums may have changed since the dentures were made. They may not fit as well as they should and because of that they can slip. This can lead to both big and small problems.
Slipping dentures can cause inflammation and swelling of the gums. If left untreated, this can lead to more damage to the gums. It is also possible that the slipping leads to gaps between the dentures and the gums. These gaps are a breeding place for bacteria that can lead to gum disease. If you do not do something to protect your gums, you could cause abrasions, cuts and many other problems that affect the health of your gums.
Ways to Protect
The main reason that dentures slip is because they do not fit properly. There are several things that you can do that will protect the gums.
Cleaning – Cleaning the dentures and the gums regularly can help them from changing shape.
Rinse with warm salt-water – This can help keep the gums clean and healthy
Follow a proper diet – A good diet will provide the gums with the nutrients it needs for good health.
Rest – Rest the gums occasionally by removing the dentures. Make sure to soak the dentures to avoid drying out.
Don't Smoke – It damages your health in many ways.
The last piece of protection is regular visits to our dental professionals. They can make sure your dentures fit properly and do not cause problems from slipping. Contact our office today to schedule an appointment.