Do you dislike the way your teeth look? Would you like a whiter smile?
A cosmetic dentist such as Dr. Cross can help provide a beautiful smile that you will be proud to show off. At Aesthetic Dental Group, we make it our duty to provide the best possible treatment options available to our patients. This includes teeth whitening, dental implants, crowns, and veneers in Martinsville NJ and surrounding areas of Somerset County NJ.
What Is A Cosmetic Dentist?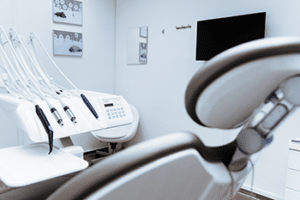 Cosmetic dentistry is handled by a professional who is qualified to restore tooth functionality and enhance the aesthetics of your smile. Dr. Cross is an affiliate of The American Academy of Cosmetic Dentistry and is highly trained in restorative dental care.
What Does A Cosmetic Dentist Do?
A Martinsville NJ cosmetic dentist such as Dr. Cross is capable of treating many of the common issues that can contribute to your smile not being its best. At Aesthetic Dental Group, a cosmetic dentist can provide the following services to enhance your appearance:
Teeth Whitening
Discolored teeth can be caused by certain lifestyle habits such as smoking, drinking wine or coffee, or not adequately brushing or flossing. A simple teeth whitening procedure can brighten up your smile and provide a boost of confidence, knowing that you look your best.
Veneers
Veneers are used for discolored, misshaped, or chipped teeth. They are made of thin pieces of porcelain or plastic and are bonded to your teeth to create a durable and pleasing smile. Veneers create a shield against stains, which makes them ideal for people who want a perfect smile.
Dental Implants
Dental implants are used to replace missing teeth and tooth roots. First, a dental post is installed to fuse with the jawbone and then a custom crown is fitted over the post for a secure and often permanent solution.
Dental Crowns
A dental crown is a fixed prosthetic device that is cemented on to implants or existing teeth. Crowns are used as a cap for damaged teeth, providing additional strength, improved appearance, and alignment.
Dentures
There are 2 types of dentures; partial and complete. A partial denture is used to replace several missing teeth and restore oral health. Partial dentures can be both removable or fixed. Complete dentures are used to help patients regain a cosmetic smile and functions associated such as eating and speaking.
Finding A Cosmetic Dentist Near Me In Martinsville NJ
Dr. Cross and our team at Aesthetic Dental Group are experts in cosmetic dentistry. We are here to answer any questions or concerns regarding teeth whitening, dental implants, veneers, crowns, or dentures. If you are located in Martinsville NJ, Bridgewater NJ, Warren NJ, Branchburg NJ, or surrounding areas of Somerset County NJ contact Aesthetic Dental Group to schedule a complimentary consultation today! Call now (732) 356-5050.