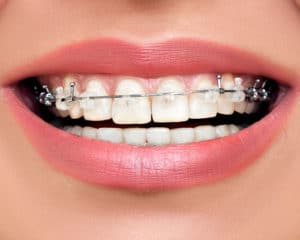 Do you need orthodontic treatment, but don't want traditional metal braces? Then clear braces, offered here at Aesthetic Dental Group in Bridgewater NJ, may be a great alternative for you. Many of our teen and adult patients chose this teeth straightening system because it is: made of a clear, ceramic material made to mimic the shade of teeth, more comfortable, and much less noticeable to the casual observer!
The Clear Braces Advantage
They're clear, hence the name, allowing them to treat orthodontic issues while being discreet and unobtrusive.
They're just as effective as traditional metal braces.
They retain patients' teeth for life, as they not only straighten teeth, but also raise patients' confidence level!
While traditional braces are a proven and effective treatment option, there are other approaches that can be less obvious and more comfortable like clear braces! If you live in the Bridgewater NJ area contact us today at 732.356.5050 to schedule a complimentary, initial consultation with Dr. John Cross or Dr. Monika Chan to find out if clear braces will be an effective treatment option for you.  Dr. Cross and Dr. Chan can answer any questions and/or concerns that you may have.
---
Dr. John Cross, Dr. Monika Chan, and the team at Aesthetic Dental Group are experts in clear braces.  If you have any questions pertaining to oral cancer screening, dental cleaning, teeth whitening, bonding and veneers, implant restorations, implant overdentures, crown and bridgework, traditional dentures, bruxism appliance therapy, tooth colored fillings, Invisalign, or braces in the 08836 zip code area: Martinsville, Warren, Bedminster, Bridgewater, Basking Ridge, or Branchburg, NJ, or would like to schedule an complementary consultation with Dr. Cross or Dr. Chan, contact Aesthetic Dental Group at: 732.356.5050