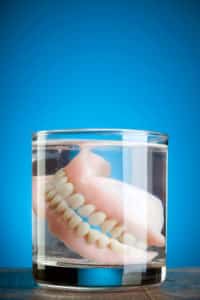 Most people think that dentures replace all of your natural teeth. They look at them as a full set of teeth. They do not realize it is possible to have dentures even if you have a few natural teeth. In fact, there are some possible benefits to having a few natural teeth in combination with the dentures.
The Dangers of Missing Teeth
Almost everyone will lose some of the teeth at some point in their life. This can happen because of disease, trauma or some other problem. While most people think the biggest problem with missing teeth is the effect they have on the smile, there are other problems to consider.
When teeth are missing, the ones that are left lack some of the support they need. They can shift into a new position or they can become loose. The gums where the teeth are missing from can shrink and change shape. It can also affect the jaw bone. That is why it is important to find a way to replace any teeth that are lost. Dentures are an option even if a person has not lost all their natural teeth.
The Benefits of Dentures with Natural Teeth
It is possible to have dentures made to fit in with the natural teeth. Because dentures are custom made to fit the individual it is easy to include some natural teeth in with the dentures. There are also good reasons for doing it.
The natural teeth are stronger and can provide support for both the dentures and the gums. They can help the gums keep their shape when the dentures are not in place and they can provide a place where the dentures can attach to for additional support.
The key to using natural teeth with dentures is to keep the natural teeth healthy. This means keeping them clean and removing the bacteria through brushing and flossing every day. That will allow a person to have the advantages of both natural teeth and dentures to replace missing teeth.
Contact our office today to learn more about dentures and denture care.