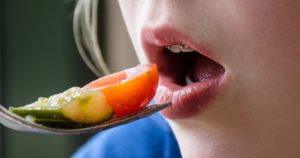 Dr. John Cross, Dr. Monika Chan, and the staff here at
Aesthetic Dental Group
provide patients with the best orthodontic care with
braces
in the
08836
zip code area. We at Aesthetic Dental Group also work hard to ensure that every patient is provided with the appropriate, affordable, and gentle care that they need and expect. If you ever find that you're experiencing a difference in the function of your braces, such as a loose brace or bracket, let us know! Helping our patients achieve the best end results is priority to our team of experts.
What Can Cause Harm to My Braces?
Hard candies
Ice cubes
Sticky foods
Injury to the face
There are several factors that can ultimately cause damage to your appliance and prevent it from working as designed. And we here at Aesthetic Dental Group especially warn our patients of sticky substances such as gum and candy as they can easily cause damage to the brackets and/or wires. Additionally, after any adjusting/tightening appointment with Dr. Cross and Dr. Chan, it is important that patients eat softer foods at least initially.
Some Signs That Your Braces Need to Be Fixed
Loose or missing bracket(s)
Broken or loose wire
Severe discomfort or pain in your teeth, mouth, and/or jaw
Ways to Avoid Discomfort While Wearing Braces
Create a soft food diet (e.g., pasta, soups, mashed potatoes, yogurt, and other soft stuff)
Rinse with warm salt water 2-to-3 times a day
Consult with your doctor about over-the-counter pain relievers
It's normal to feel discomfort in and/or around your mouth while wearing braces, especially if they've just been tightened and/or adjusted. This pain doesn't necessarily mean your braces are broken or ill-fitting. However, if you continue to experience pain in your teeth, mouth or jaw, call Dr. Cross and Dr. Chan immediately.
---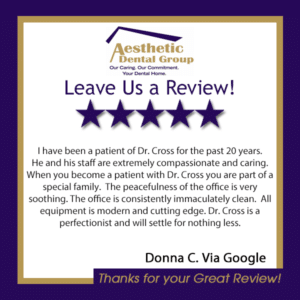 ---
Don't Wait!
If you're experiencing a problem with your braces, waiting for your next appointment with Dr. Cross and Dr. Chan may do more harm than good in the progress of straightening your smile. So don't wait, contact Dr. Cross, Dr. Chan, and the team here at Aesthetic Dental Group in the 08836 zip code area immediately.
---
Dr. John Cross, Dr. Monika Chan, and the team at Aesthetic Dental Group are experts in braces. If you have any questions pertaining to oral cancer screening, dental cleaning, teeth whitening, bonding and veneers, implant restorations, implant overdentures, crown and bridgework, traditional dentures, bruxism appliance therapy, tooth colored fillings, Invisalign, or braces in the 08836 zip code area: Martinsville, Warren, Bedminster, Bridgewater, Basking Ridge, or Branchburg, NJ, or would like to schedule an complementary consultation with Dr. Cross or Dr. Chan, contact Aesthetic Dental Group at: 732.356.5050