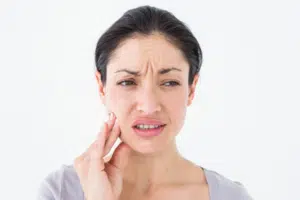 Are you looking for a temporomandibular joint (TMJ) syndrome expert? Here at 
Aesthetic Dental Group
 in 
Bedminster NJ
, we are familiar with the localized pain disorder. TMJ is caused by: injury to the teeth or jaw, misalignment of the teeth or jaw, teeth grinding, poor posture, stress, arthritis, and gum chewing, and both, Dr. John Cross and Dr. Monika Chan, recommend these four TMJ treatment options to patients:
4 TMJ Treatment Options
Home Treatments. Some things you can do on your own include (but aren't limited to): taking over-the-counter medications (e.g., ibuprofen), using heating or cold packs to relieve pain, and eating soft foods.
Medications. Dr. Cross and Dr. Chan may prescribe patients with higher doses of medications for pain and swellings. For patients who grind their teeth, he might suggest a muscle relaxer to relax your jaw. And for patients under stress he might suggest a anti-anxiety medication.
A Splint or Night Guard. To further prevent teeth from grinding, Dr. Cross and Dr. Chan may suggest a mouthpiece to lessen the effects of grinding and correct your bite at the same time.
Orthodontic Treatment. Dr. Cross and Dr. Chan can use braces or Invisalign to fix your bite.
If you live or work in or around the Bedminster NJ area, and suffer from pain or tenderness in your face/jaw joint area, have problems when you try to open your mouth wide, or trouble chewing, contact us today at 732.356.5050 to schedule an appointment with Dr. Cross and Dr. Chan!
---
Dr. John Cross, Dr. Monika Chan, and the team at Aesthetic Dental Group are experts in TMJ Treament.  If you have any questions pertaining to oral cancer screening, dental cleaning, teeth whitening, bonding and veneers, implant restorations, implant overdentures, crown and bridgework, traditional dentures, bruxism appliance therapy, tooth colored fillings, Invisalign, or braces in the 08836 zip code area: Martinsville, Warren, Bedminster, Bridgewater, Basking Ridge, or Branchburg, NJ, or would like to schedule an complementary consultation with Dr. Cross or Dr. Chan, contact Aesthetic Dental Group at: 732.356.5050